Last Sunday the International Optimist Selection which took place in Sistiana (Trieste), a very important interregional regatta, lasting three days, ended in order to access the national selections for the European championships that will take place in Naples from 28 April at 1 May and at the World Championships to be held in Follonica from 16 to 19 May.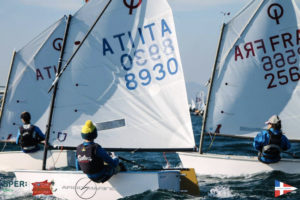 There were 186 athletes involved and, of the 9 trials to be run, only 4 were carried out due to the unstable wind that prevented them from racing on a regular basis.
The Juniors of the Optimist team of the "Sailing Park" team, despite being in their first year, made themselves noticed with some very fine performances.
In particular, Jacopo Mattioli won an extraordinary 8th place overall, which earned him a qualifying pass for the subsequent national selection in Naples.
Congratulations to all the guys who participated in this important race, their coach Giacomo De Carolis and the vice coach Riccardo Macrillante!
Argomarine is proud to support these young athletes as sponsors who put so much passion for sailing and love for the sea.